Making Biochar in 55 Galon TLUD
Post date:
Saturday, November 10, 2012 - 12:00am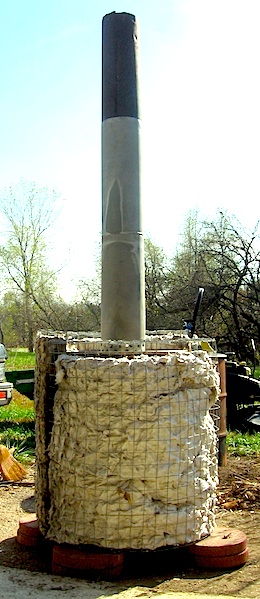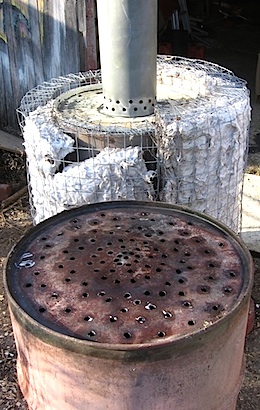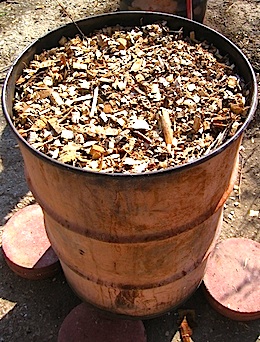 David Yarrow
October, 2012
For details see:
http://www.dyarrow.org/TLUD/
From his description:
The new TLUD barrel burner is an improvement over the crude, rough-cut barrel Brad Rush and I made at 4 Oaks Farm in the winter. Most upgrades were to improve air flow up through the burn barrel, and up the chimney. These were successful, and this new equipment performed significantly better, evidenced by faster, hotter burns, and the gas flare contained inside the chimney.
The new barrel has a removable lid, making it easier and faster to load and unload. The one-piece barrel we used at 4 Oaks Farm was loaded through an 8-inch chimney hole in the top, and emptied through the same hole. The lid is permanently attached to the first length of chimney, making it secure against strong winds, safer to remove, with tighter air seal at the lid-chimney junction.
Instead of three large air intake holes in the burn barrel bottom, over four dozen half-inch holes were drilled. This assures multiple small streams and wider spread of air flow up through the wood chip biomass. This air spread should yield more even, symmetrical burns, and reduce tendency of fire to rush rapidly down one side of the barrel, leaving other feedstock incompletely burned.
Similarly, at the base of the chimney, a series of half-inch holes were drilled in a staggered row. ... The new chimney has smaller holes spread evenly around. Thus, this more even distribution of air all around the chimney assures more thorough mixing of air with gases, thus more complete combustion inside the chimney.
A third length of stovepipe was added to create a taller chimney and increase the updraft to pull air up through the packed biomass. The difference between two and three stovepipes was very evident, and resulted in a nearly perfect smokeless burn with steady, strong updraft.
trace affiliate link | Air Jordan 1 High OG "University Blue" 2021 Release Info - Pochta