Climate Capitalism Book
Post date:
Friday, April 15, 2011 - 10:46am
L. Hunter Lovins and Boyd Cohen, April 2011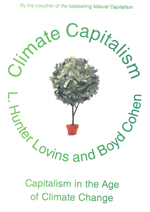 Hunter Lovins and Boyd Cohen's book includes a short section on Biochar. Their book makes their case through including short profiles on people working in the areas they are highlighting. Both the International Biochar Initiative, and Nat Mulcahy's World Stoves project in Haiti are mentioned.
Green Biz has a recent review: http://www.greenbiz.com/business/research/bookstore/2011/04/11/climate-c...