Netherlands: Torrified Wood Links
Post date:
Saturday, March 8, 2008 - 5:51pm
Torrified Wood links
Tom Miles, March 8, 2008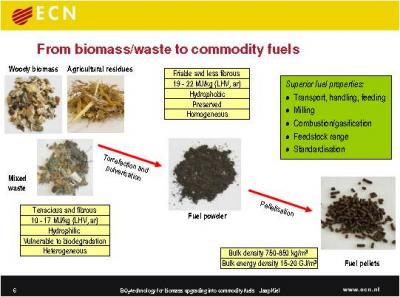 ECN Torrified Wood
Development of 2nd Generation Pellet fuels in the Netherlands: Torrified Pellets Pell@tlas, European Pellet Centre, Newsletter, January 2008.
ECN B02-technology for Biomass Updgrading Jaap Kiel, Wageningen, 20 November 2007
ECN TOP (Torriefied Wood Pellet) Technology for the Production of Biomass Commodity Fuels. J. Kiel, Poland 2006
Torrefaction for Biomass Upgrading into Commodity fuels J Kiel, IEA Task 32 Berlin, May 2007.
PRE-TREATMENT TECHNOLOGIES,AND THEIR EFFECTS ON THE INTERNATIONAL BIOENERGY SUPPLY CHAIN LOGISTICS: Techno-economic evaluation of torrefaction, fast pyrolysis and pelletisation Ayla Uslu, Department of Science, Technology & Society Utrecht University, the Netherlands and Energy research Centre of the Netherlands (ECN).Biomass Department, Petten, the Netherlands, December 2005.