Miscanthus and Willow Charcoal Trials
Post date:
Thursday, May 22, 2008 - 10:30am
Robert Flanagan, May 22, 2008
Attached are some photos of my latest trial with char (biochar/agrichar ). I achieved the above results with charcoal made
from willow and miscanthus at over 550C.
In the attached photos I just added the
char to local soil with no other additions.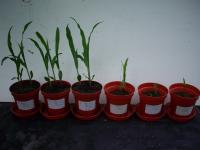 50g Miscanthus Charcoal per pot
Charcoal is only one part of terra preta farming as balance in the key and nutrient and carbon cycling. Pyrolysis only produces combustible gas when all the moisture has been driven off so it's not correct to say you get syngas from low temp pyrolysis unless you pre-dry your feedstock and then clean up the tars before going into a genset and making electric power.
Buy Sneakers | Nike nike max breathe 3.1 white yellow shoes Pixel Desert Sand - Grailify